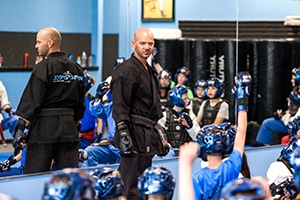 Master Macy, our Master Instructor, works to create a more immersive, excellent karate experience, and he does it practically all day long (he sleeps a few hours, on a good night).
Otherwise he's writing karate curriculum, guiding policies, driving nails, cutting mats, booking martial arts superstars, and of course, instructing instructors.
Master Instructor. The title seems about right. He oversees everything, and it's a 24/7 job.
You've also heard of the Masters, as in golf. And it (might?) surprise you to learn that Master Macy has a love for the game. Not much time to hit the links, though, when you're running three karate schools, keeping up with hundreds of students, thousands of parents, millions of sparring combinations (practically).
But when there's a link to be forged between profession, recreation, and benefaction, you'd better believe Master Macy's gonna forge it.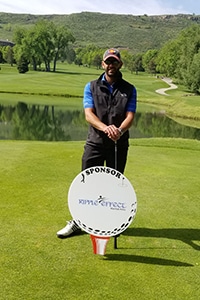 A couple of weeks back he participated in a golf tournament to benefit the Colorado chapter of the Fallen Hero Foundation, which assists with essential resources for families, friends and colleagues of officers killed in the line of duty.
Participation doesn't just mean sinking a putt. It's a full on sponsorship, the donation of Ripple Effect Martial Arts profits to the Fallen Hero cause.
Master Macy didn't ask to highlight this. Like his involvement in the schools, his sponsorship of fallen comrades goes all but unsung. But we'd just like to let 'cha know. Because your participation in karate is directly related to honoring and supporting fallen heroes (yes, please pat yourself on the back 🙂.
Next time you see your master instructor, give an extra deep bow of courtesy. And give yourself thanks for helping us help others. Keep kicking.