Online martial arts instruction through partnerships with northern Colorado schools is bringing character development, anti-bullying and even literacy skills to Colorado students and families.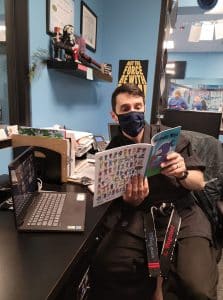 Longmont, CO: ​Since opening its first school in Fort Collins in 2013, Ripple Effect Martial Arts has partnered with elementary, middle and high school students and teachers through local fitness fairs and programs like Gym Teacher for a Day and Read with a Black Belt. The onset of the COVID-19 pandemic early last year changed the in-person dynamic, but virtual programs offer an opportunity to continue to connect and impact lives.
"We launched our Virtual Ripples online platform for our karate students just before the first lockdowns in March of last year," says Greg Macy, Master Instructor and Founder of Ripple Effect Martial Arts. "We developed the platform to continue to teach hundreds of our own students and families from home, and it transferred beautifully to our outreach to local elementary schools."
Over the past year, Ripple Effect Martial Arts has conducted scores of "Black Belt" character development talks, read alouds and karate-based physical education programs at schools including Twin Peaks Charter Academy, Niwot Elementary, Blue Mountain Elementary and Eagle Crest Elementary.
"A virtual connection with students, their parents and their teachers made sense from a health and logistical perspective," says Andrew Wagoner, Head Instructor of Ripple Effect's Longmont school. "We train in martial arts to improve our minds and bodies, and the online platform has allowed us to reach more students and help them improve in very challenging times."
Ripple Effect Martial Arts' "Read with a Black Belt" program is a model of this successful interaction with students, parents and teachers.
"We get to read and share incredible stories about heroes overcoming obstacles, and regular, normal people achieving their goals," says Wagoner. "It's amazing to hear questions and perspectives on traits like positivity, compassion, bravery and even anger from students as young as five years old, and parents too."
While the virtual classes have taken center stage during the pandemic, the physical karate schools remain open, at reduced capacity and with social distancing in accordance with CDC guidelines. "We'll always value the impact of teaching face to face," says Wagoner. "But to maximize engagement in training while students work to earn a black belt, the virtual connection has been key."
5th-degree black belt Greg Macy, a Colorado native, founded Ripple Effect Martial Arts in 2013. The schools, located in Fort Collins, Longmont and Johnstown, teach self-defense, martial arts curriculum and leadership skills based on the systems developed by Grandmaster Jhoon Rhee, the "Father of American Tae Kwon Do." Learn more at rippleeffectmartialarts.com.