Colorado-based Ripple Effect Martial Arts to host grand re-opening celebration for kids and families, with all proceeds going toward Colorado's Partners for Children's Mental Health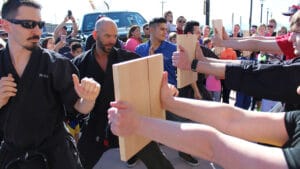 Fort Collins, CO: Ripple Effect Martial Arts will host a grand re-opening block party from 11:30 a.m. to 1:30 p.m. on Saturday, August 21, at its newest location next to Scheels in Johnstown Plaza. Kids, adults and families are invited to come explore the school, meet black belt instructors and enjoy karate-focused games and activities. The event is open to the general public and will include board break displays, a dunk tank, and a Kona Ice truck.
Admission is free and open to all ages. All proceeds from the board break and dunk tank events will go directly to Colorado non-profit Partners for Children's Mental Health, whose mission is to "bring communities together to build a mental health system that better serves all children, youth, and families."
Visitors will also have the opportunity to participate in a group karate intro class, learning kicks, stances and punches. Kona Ice will supply refreshments.
"We're so excited to celebrate the progress our schools, students and communities have made since last year," says 4th-degree black belt Andrew Wagoner, General Manager of Ripple Effect Martial Arts and Head Instructor of the school in Longmont. "This event is meant to be fun for all ages, with a win-win focus on raising funds for Partners for Children's Mental Health."
Master Instructor Greg Macy, a Colorado native, founded Ripple Effect Martial Arts in 2013. The schools, located in Fort Collins, Longmont and Johnstown, teach self-defense and curriculum based on the systems developed by Grandmaster Jhoon Rhee, the "Father of American Tae Kwon Do." Learn more at rippleeffectmartialarts.com.