"Mat Chats," traditional taekwondo forms, and American Freestyle Taekwondo sparring teach kids to confront opponents, keep at a safe distance, and fight their fears.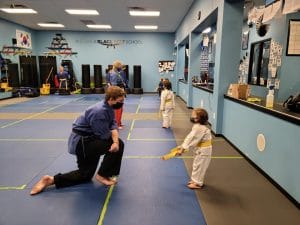 ​Longmont, CO: With declining COVID cases and the widening distribution of vaccines across Colorado, local martial arts schools have been able to open classes to more students and families, while keeping masks and social distancing guidelines in place. It's a compromise to accommodate demand for martial arts instruction for kids while maintaining safety and health for Colorado communities.
"We took a pragmatic approach to the pandemic from the start," says Mr. Andrew Wagoner, "Online instruction began at the onset of the lockdown last year, but we've since been able to open up the schools to in-person instruction in a responsible way. It's amazing to connect, from a distance and masked but still face to face, with parents and students again." Mr. Wagoner is a third-degree black belt and head instructor of Ripple Effect Martial Arts in Longmont.
The response from parents and students of Ripple Effect's three Colorado schools has been overwhelmingly positive, especially as it relates to character development in kids.
"Throughout the pandemic, [Ripple Effect Martial Arts instructors] have offered every imaginable form of training within the confines of [health] regulations and restrictions," says Kris Zeh of Longmont. "In addition to martial arts training, my [three] children have learned self-control, self-discipline, self-esteem, and self-awareness. We couldn't be happier to be training here."
Jacques Fournet of Fort Collins shares the sentiment. "We just joined Ripple Effect Martial Arts' Leadership program, and our six-year-old daughter's desire to be a leader has spilled out into her non-karate life. She's excited about [karate] classes, and the instruction at Ripple Effect has been organized, fun, and obviously is building physical, mental, and character skills in our daughter."
Sparring has even returned, with students padding up before class and partnering with a single student for an entire class to reduce person-to-person interactions while still teaching fighting fundamentals. "Sparring is one of the most important tools for teaching kids how to deal with confrontation," says Wagoner. "Maintaining a proper distance, offensively and defensively, is vital. This has very practical applications, especially with kids returning to school."
5th-degree black belt Greg Macy, a Colorado native, founded Ripple Effect Martial Arts in 2013. The schools, located in Fort Collins, Longmont and Johnstown, teach self-defense, martial arts curriculum and leadership skills based on the systems developed by Grandmaster Jhoon Rhee, the "Father of American Tae Kwon Do." Learn more at rippleeffectmartialarts.com.