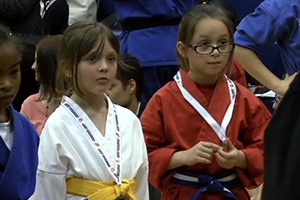 White belts and gold belts (and parents of white and gold belts) often ask, "why would we go to a karate tournament?" After all, it's a competition. And lower belts haven't been trained to compete.
But looking forward to Black Belt, you probably look forward to that challenge of competition. Of showing off your skills in forms. Of winning some points in sparring. It's fun to imagine, but maybe a little intimidating to execute. That's why it's so crucial to jump into a tournament atmosphere in the early days of your karate training. It sets you up for the (near) future.
It's sort of like training as a lion tamer but never going to the circus. Sure, you're not going to jump right into the cage with the ferocious beasts after just a few months' practice in the backyard, but it's a good idea to get a feel for how it works. And that means stepping under the big top and watching, firsthand, how the more experienced players handle the pressure. (That's not to mention it's a ton of fun to see the circus in action.)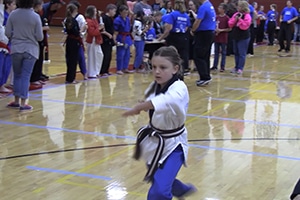 For another angle on it, think about the impact of your first white belt class. You were participating then, not competing. You were learning from others that had more skills than you, even if only because they'd been to one extra white belt class. You experienced how to bow in, how to speak your creeds, how and when to bow, to be loud, to take a knee and listen.
Lots of protocol in that first class. And it was probably pretty exciting, too, even without all the pyrotechnics of sparring, spinning hook kicks, trophies, medals, ceremonies and what not. You were participating in the energy. You got all charged up. (Yeah.)
It's the same with your first tournament. The energy is seriously amped up, and it builds and builds. Don't be afraid, and don't be hesitant. Jump in. You'll be amazed at where you end up.
See the energy in action here.