Meet Jen.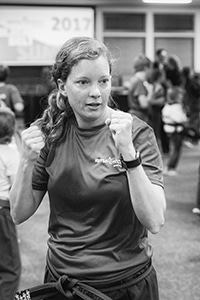 She's a marital artist, on the cusp of earning her Black Belt (test weekend: April 27-29). [Editor's note, November 2018: Ms. Hayes passed her test, and is progressing toward her 2nd degree. MNB]
Jen's also on a mission to help women, kids, and families stay safe, everywhere they go. From bullies in the play yard to abusers at home to literal killers on the street, Jen takes self-defense very seriously.
While in college, a serial killer attacked a couple on Jen's campus. The young man died. The young woman survived.
Jen signed up for a self-defense class soon after. She also looked into martial arts on campus. "I knew I needed more skills to keep myself safe," she says. "I was living in fear. dead-bolting doors, checking window locks, obsessively. What happened to my friends could happen to anybody, anytime." The girl who'd been attacked went on to become one of Jen's close friends. She remains an absolute inspiration.
Today, though she laughs it off a bit, Jen's serious about being a "hyper-aware mom." "Love your people hard because they could be gone tomorrow," she says. She's also hyper-involved in life, training with her husband and son in Tae Kwon Do, learning guitar, writing a novel, and working full-time as a communications specialist for the U.S. Forest Service.
All the while, she invests herself in helping women stay safe in every aspect of their lives. "I went to a self-defense seminar with Master Macy in 2015," she recalls. "It felt so real and so empowering. I felt like I could be in control, even if attacked. It changed my perspective and rekindled my desire to pursue more self-defense training."
She sought out opportunities to instruct, to volunteer. She also fought to get resources into the hands of women. These include products and seminars from Damsel in Defense, whose mission is to "equip, empower and educate women to protect themselves and their families." Their products range from positive-message t-shirts to powerful alarms to conceal-carry purses and pepper sprays.
Jen also wants to help her friend, Holly K. Dunn—the young woman who survived the attack near the railway all those years ago—in her efforts to promote self-protection and healing.
Dunn's book, Sole Survivor, details the author's own tragedy and draws from it an empowering message for all women: You can withstand, and you can stand up. "She [Holly] wants to give hope to attack survivors, and to let people know there are resources to help them," Jen says. "It has made me think, 'what else can I do to help this effort?'"
Training toward Black Belt and beyond has helped give Jen the strength to give back, with power and heart like never before. Whether you're new to martial arts or just thinking about taking it up, know you'll learn to be stronger, in the company of amazing people who are working to be stronger, too.