Kelly and Greg Brooks have two sons in karate, Riley (10) and Greidan (7). They're scheduled to test for their Black Belts next year. Part of that process is developing a leadership project that benefits the local community. For their leadership cause, the boys chose the Autism Society of Boulder County (ASBC).
Why?
"Greidan is on the spectrum," says Kelly. "He's been challenged, and we've been challenged as a family. The [Autism] Society has been a lifeline."
So, she says, has karate. The opportunity to support autism awareness and research through a karate leadership project was too perfect to pass up.
She wasn't hesitant in the least in sharing this. And I could all but feel Riley nodding as we talked over the phone. It happened to be three years to the day since the boys had begun their training in taekwondo.
"Riley was seven, his brother's age [now], when he started," Kelly recalls. "I'll never forget their first day in class. Greidan wouldn't even go on the mat, and his brother and a friend went right away." ["I did eventually go out on the mat," Greidan adds.]
For everyone who teaches or trains in martial arts, overcoming adversity is a major goal. And everyone's adversity is personal. You may love to show off in front of a crowd (so you race out onto the karate mats), but hate to follow directions (so you're all twitchy when everyone else is standing at attention). You may have a heart of discipline but be nervous, self-critical. You'll hold a sidekick for hours, but not for spectators.
Any parent can relate to this experience; kids' personalities can dictate how a kid behaves; reticent or respondent, loud and laser-focused or quiet, dreamy. For a child with autism, those endemic traits are exasperated.
"Karate has helped [Greidan] with self-control, eye-contact," Kelly says. "He's more visual than auditory. He struggles still, but karate has been great in helping him develop confidence and focus."
And his brother?
"I'm more respectful," Riley says. "We still struggle," says Mom, with a bit of a chuckle. "We're not experts. I don't think anybody is. But we're better equipped."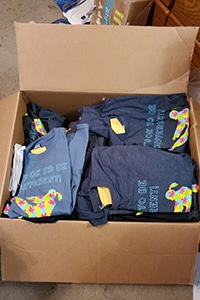 To raise money for autism awareness and research, Riley and Greidan helped design t-shirts and advertised and sold them to the Ripple Effect Martial Arts community. The profits—$604.24, to be exact—went directly to the Autism Society of Boulder County.
Both boys were excited to see the orders tick up online. Their goal was $500, and they exceeded it.
"It was a gi-normous check," says Riley. [The funds were transferred electronically.] The boys plan to renew the effort next April.
The brothers had the gears turning on their fundraising project well before the COVID19 pandemic took hold here in Colorado. And the timing worked out. "A huge box of t-shirts came to our porch," says Riley. "We were delivering the t-shirts in Longmont the day before Governor Polis gave the stay at home order," says Kelly. Families in Fort Collins and Johnstown received theirs by mail in the following days.
Everyone can relate to the struggles of balancing work and home life. In the midst of a pandemic, those struggles have taken on a new reality. How do you keep everyone safe, educated and entertained, all while doing your job?
"[Martial arts] has helped a lot with home schooling," says Kelly, who as the North America Skills Leader for the GTS Division of IBM manages the education and certifications of more than 14,000 employees. "[Ripple Effect] gives us a schedule, something routine-oriented that helps the kids be more independent in getting stuff done."
"The mat donation [from Ripple Effect] helped a lot in creating a home gym," she says. "We're thankful."
For years they'd trained in the karate school, alongside dozens of other friends striving and sparring to earn their black belts. Online training has changed that dynamic, and Greidan misses his friends. But the Brooks family has harnessed an approach to staying positive, healthy and helpful under unprecedented conditions.
"My 'parent training' from Ripple Effect has helped me handle tense situations," says Kelly. "Not every day do I handle it the best, but when we need to get the energy out, I just say 'let's get online and do some karate classes.'"
"It's been my lifesaver, this community."