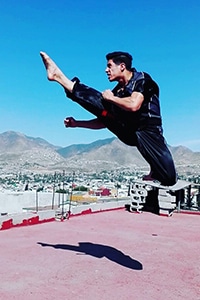 Kickboxer, point fighter, and member of the esteemed Team Paul Mitchell Karate, Mr. Justin Ortiz has taken top honors in virtually every sport karate tournament worldwide. His wins include multiple World Cup, WAKO, NASKA, WKA and ISKA titles. He's fought in Dublin, Buenos Aires, Mexico City, Madrid and Montreal. In his 20 years of training in martial arts, he's earned the rank of 2nd-degree Black Belt in Goju-Ryu karate, 4th-degree in Shotokan karate, and 3rd-degree in taekwondo.
Thus runs a summary list of accomplishments in a career that has no end in sight. And it all began at with a fatherly gift at age 3.
"My dad gave me a karate gi for my third birthday," says Justin. "Karate's always been in my blood."
The elder Ortiz has coached Justin ever since, not only in karate but in the little disciplines and life skills that make a martial artist into a leader.
"My dad trained in Shotokan," says Justin. "He was a national champion but never bragged about it. He just wanted me to grow in the martial arts."
On Team Paul Mitchell, Justin represents the #1 karate team in the world—a record that has stood for nearly 30 years. Virtually every move he makes is in the spotlight. But that was hardly true in the beginning.
"We grew up poor, in the projects," he says. "It was a bad environment, and it was hard to find a way out. Karate, competition was the path for me. My father forged it," he says, "I pursued it with everything I had."
Justin began competing at age six. His first victories on the circuit came in the form of second, third and fourth place trophies. It wasn't enough.
"I didn't win a first-place trophy until I was 14 years old," he says. "My dad never pushed. It wasn't like he needed me to be number one. He just wanted me to develop my own fire. He finally said to me 'are you tired of losing? If you are, you need to listen to me.'"
"[Under my father], I'd never trained so hard in my life," he says. "It was scary, in a way, to be taken to that level, tested, mentally and physically. But if my father hadn't helped me push past the pain, I wouldn't be where I am."
The training regimen paid off at the U.S. Open ISKA championship tournament, held at Walt Disney World in Orlando. Justin took the triple crown, winning first-place in forms, point- and continuous sparring.
The next year (at 15 years old), Justin represented the U.S. team at the WAKO World Championship in Naples, Italy, taking gold in continuous-, point-, and team-sparring. Fighters from more than 100 countries compete at WAKO, which is like the Olympics of martial arts. The competition runs for four straight days.
Traveling and competing in these top-echelon karate tournaments isn't easy, simple or cheap. Especially for a teenager. Justin not only had to train to compete against world-class martial artists, he also had to earn the money for equipment, plane tickets, hotel rooms, tournament entry fees, and meals on the road. That's a lot of pull on a teenager's limited means.
"I really fell in love with the opportunity to travel and see the world," says Justin. "Karate was my passport, my opportunity to excel. I never stopped wanting to get better."
The WAKO wins put Justin on the radar of several sponsors and teams. When he took an offer from MASMAL, he was competing against adults, fighters who had practiced martial arts longer than he'd been alive. As a lightweight, he even fought against many heavyweight fighters to win overall grand championships.
"My dad always trained me to fight regardless of who's in the ring. Big, small, fast, strong, older, or more experienced, it didn't matter," says Justin. "We bow, we show respect. From that moment on, my job is to win."
Justin began to rack up the wins, beating even seasoned martial artists in tournaments across the world stage. At 18, he joined Full Circle, a top-tier team and rival to Team Paul Mitchell Karate. "This was a turning point," says Justin. "It was fun to make a lot of noise [on the professional circuit]. And at this level I had the opportunity to do so much more."
It was just one year later that Team Paul Mitchell approached Justin and asked him to join. Full sponsorship. Top billing on the international tournament circuit. The chance to train under legends like Damon Gilbert. It was just too good to pass up.
"This was my dream," he says. "I always wanted to be a champion. I wanted people to remember my name. My first goal was to make my dad proud. My next was to make a legacy of my own."
See some of Justin's recent kickboxing highlights here.