Parents are always trying to get their kids out of the house. And karate's pretty handy in that regard. Exercise? Check. Safe environment? Check. Challenges, discipline, respect? Check, check, check.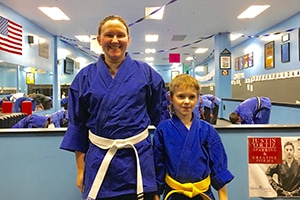 But what about a kid who wants to get a parent out of the house? That really takes leadership.
Meet Aidan and Angela, a mom and son pair of karate students at Ripple Effect Martial Arts in Fort Collins who've just graduated to high-gold belt (nice!). Their story's pretty typical: kid signs up for karate, parent soon wants to join him out on the mat, and shazaam! You're a "kicks together sticks together" family. Beautiful.
Except there's more to this story, as Angela was eager to share.
"Before coming to karate with Aidan," she says, her eyes bright, "I hadn't left the house in three years."
That's literally true. Angela shopped for groceries online. Taught Aidan at home vs. bringing him to a public school. Communicated with people other than her son and husband by phone or computer rather than face to face.
"I shut myself off from the outside world," she says, "even though I wanted to engage with other people. But for different reasons I couldn't bring myself to do it."
Then something inspired a change. "Aidan needed a Physical Education component to his homeschool curriculum," says Angela. "And from a long list of qualifying activities, he chose karate." They did their research and found Ripple Effect Martial Arts. "From the beginning," says Angela, "he loved it. He was hooked."
Aidan's dad Korey brought him to classes at first, encouraging Angela to come as well. "Korey works nights", explained Angela, "so I had to get used to the idea of taking Aidan to karate sometimes." When they came home Aidan was pumped with excitement. "He kept saying it was so cool," says Angela. Their excitement summoned enough strength in Angela to break her housebound spell.
"I just decided, Aidan's working so hard and I don't want him to grow up with a mom who can't leave the house," she says. "I came to the [karate] school, got used to seeing my son in this positive environment, felt good about the instructors' style of teaching. Just taking Aidan, without participating myself, was a big deal for me. Pretty soon, though, I wanted to step out there myself."
With Aidan tugging at her hand, she did. They were both nominated for—and both joined—the Leadership program as white belts. Leadership is a commitment to second-degree Black Belt, a commitment they're set to accomplish over the next six years. That'll mean a lot of quality time together for Aidan and Angela, in a community of students all working to make themselves stronger, too.
"I'm grateful," says Angela, "grateful for my husband's faith in me, to my son for his courage, and to the instructors for giving me new purpose and a safe, encouraging place to learn and be challenged."
Angela wanted to add that she still shops for groceries online. "This whole transition from being home all the time to going out twice a week to actually joining karate has been crazy and scary," she says, "but I'm so excited and happy to be here meeting people. Baby steps, right?"